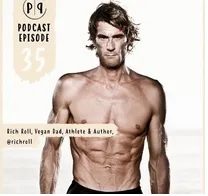 How To Transform Your Health – The World's Fittest Vegan (15 min.)
Addiction, Reinvention, and Finding Ultra with Endurance Athlete Rich Roll (68 min.)
Achieve Athletic Success Thru A Plant-Based Diet- with Dr. Caldwell Esselstyn (15 min.)
Vegan Diets Boost Athletic Perform. (2 min.)
Why are so many ATHLETES going VEGAN? Director Interview w/ Santio Panico (28 min.)
Sports and Exercise Nutrition by Pamela A. Popper, N.D. (87 min.)
Why Plant Based is Superior for Athletic Performance (56 min.)
From steroids to plant based- the remarkable story of a bodybuilding champion- Scott Abel (71 min.)
Dr. Ruth Heidrich: Conquering Stage 4 Breast Cancer and Becoming an Ironman Champion (63 min.)
Improve Athletic Performance
In our busy world filled with quick health tips and tricks, it can be hard to find the TRUTH about what is the best food for our bodies. Plantcures.org is here to help. Our resources can help you maximize your performance and minimize your illnesses — you could even do an Ironman with the information you receive! Maximizing performance through clean arteries can be an effective way to take control of your health.
Adopting a whole-food plant-based lifestyle offers countless benefits to your physical and mental health, all while giving you the needed energy to challenge your current physical performance and take it to a new level.
Resources, Stories, and Recipes
Plantcures.org is committed to providing you with everything you need to start this new chapter in your life. Our website comes equipped with stories to motivate you, resources to show you the benefits of adopting a whole-food plant-based lifestyle, daily emails to keep you on track and recipes so that you can make delicious meals to keep you energized.
Adopting a whole-food plant-based lifestyle can decrease your risk of chronic illness, heal your digestive system, and give you your life back in many ways. What we put into our bodies creates a lasting impact on both our physical and mental health. Soon after adopting a whole-food plant-based lifestyle, many individuals have found increased energy and relief from common health issues.
Plantcures.org wants to help you start this journey with effective resources and tips to succeed. We understand that adopting a whole-food plant-based lifestyle is not only beneficial for your health, but it also improves the environment and helps to minimize the suffering of animals. You can rest assured that your actions are directly benefiting your health and the world we all share.
Friendly, Experienced, and Healthy Wellness Advocates
To learn more about our resources, visit our site www.plantcures.org and subscribe to free daily emails.